About Mark Masonry
The United Grand Lodge of Mark Master Masons of Victoria
Mark Masters Association
10th December 2022
On Saturday 10th December the Mark Masters Association presented a cheque for $7400.00 at their final meeting towards the We Care charity of Supreme Grand Chapter and Grand Mark.
The Association has been in existence for over 97 years but unfortunately can no longer continue.
The DGM was representing the MWGM and was most appreciative of their efforts over so many years on behalf of all members.
Mark Grand Communication
16th November 2022
A great selection of photos of the Grand Communication.
More Photos can be viewed on our Facebook page –
Part 1 Click Here
Part 2 Click Here
Part 3 Click Here
Part 4 Click Here
A big thank you to Tsen Thau Shin for taking the photos.
Re-Enactment of Consecration at Concord Lodge
29th October 2022
Double Advancement at Keystone Mark Lodge No. 1
29th September 2022
Mordialloc Mark Lodge No 91
8th September 2022
A unique double in Mark Masonry.
Two Brethren of the Mordialloc Mark Lodge receive their 60 year jewels on the same night.
On Monday 5 th September at the South Eastern Masonic Centre, on the night of their Installation, members of the Mordialloc Mark Lodge presented Most Worshipful Bro. Robin Harrison, PGM and Very Worshipful Bro. George Raphael, PGIWkgs, with their sixty year long service jewels.
The presentations were made respectively by RWBro Ted Webster, PDGM and WBro Denis Henry, PJGD in the presence of the Deputy Grand Master RWBro. Ron Goodburn and the Grand Mark Team.
Both presentations related the Masonic History of the recipients along with a few "lighter" moments in each of their personal lives.
A further unique point was that the presentations were made in the Lodge room named in VWBro George Raphael's honour.
Mordialloc Mark also has another unique feature in that two of their members are 103 years old and up until the Covid pandemic hit us, were regular attendees.
They are Brothers Tom Henry and Henry (Harry) Dickson.
Back Row: Ron Goodburn DGM, Bill Gardiner WM, Robin Harrison PGM, Ted Webster PDGM
Seated: George Raphael OAM PGIWkgs
Concord Mark Lodge – The Shrine of Remembrance
1st September 2022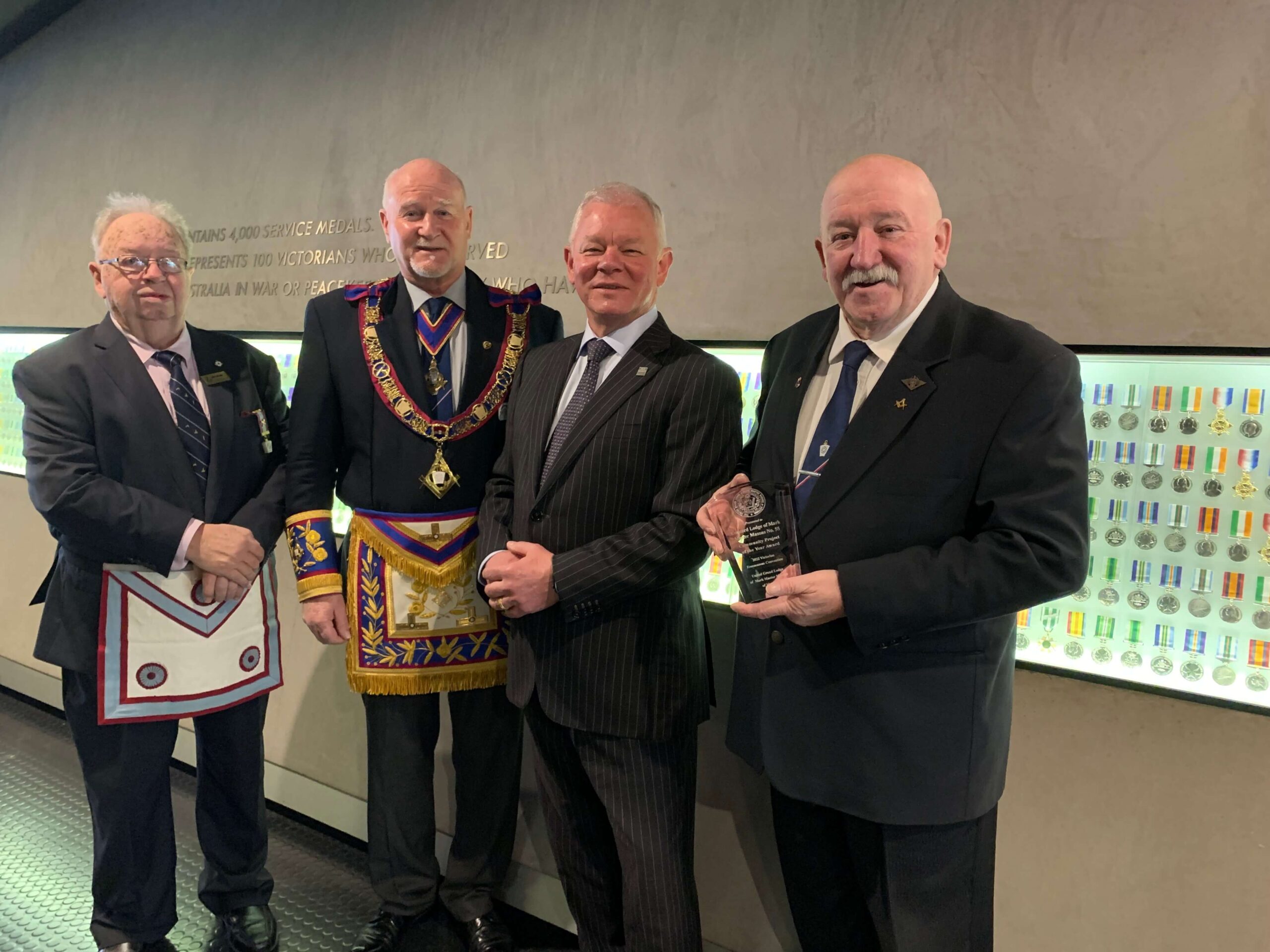 Left to right – Bro. Gary Bevern, R.W.Bro Ron Goodburn, Mr Dean Lee. CEO – The Shrine of Remembrance., WBro. Gordon Brown W.M.
Concord Mark Lodge No. 55 were recently awarded the inaugural Community Service Award for Mark Masonry at the 2022 Victorian Freemasons Convention.
This award was for a fund-raising afternoon, held in the Auditorium at The Shrine of Remembrance in June.
On the day a presentation was made by our Worshipful Master Gordon Brown on the history of The Shrine from it's very beginning to the present day.
After the presentation a guided tour of the Shrine and Museum was provided to all who attended on the day. The museum features a lifeboat that took our ANZACS ashore at Gallipoli, plus flags, an extensive range of military items, and medals donated by members of our defence forces.
The afternoon concluded with a visit to their Coffee Lounge and merchandise shop.
Proceeds raised on this day from those attending were to be donated to The Shrine's Trustees.
We returned with our Deputy Grand Master, UGLMMV. Right Worshipful Brother Ron Goodburn, along with our Worshipful Master and Senior Overseer from Concord Mark Lodge to the present The Shrine with our fund-raising donation and to show them our new Community Service Award.
We wish to thank Mr Dean Lee, The Shrine's CEO, and his staff for the wonderful assistance they provided today, along with our presentation in June.
Gary Bevern.
** Those featured in the photos Left to Right are:
Bro. Gary Bevern. SO. Concord Mark Lodge. No. 55
Right Worshipful Brother Ron Goodburn.
Deputy Grand Master. UGLMMV.
Mr Dean Lee. CEO.
The Shrine of Remembrance.
Worshipful Brother. Gordon Brown. Worshipful Master. Concord Mark Lodge. No.55.
We have an invitation to return next year and tell our
story once again next year.
Malvern-Waverly Lodge No. 39 Installation
22 April 2022 – Installation of Wor. Bro. Peter White
Gippsland Mark Lodge 100 Year Re-Concrecation and Installation
Saturday May 20th 2022
All Freemasons and their families are invited to the historic re-consecration of Gippsland Mark Lodge 52.
The reconsecration is also open to non-freemasons to enjoy this spectacular ceremony.
Book your ticket now via the TryBooking link: https://www.trybooking.com/BYGXR
My Return to Freemasonry
Brethren, my name is Gary Bevern, I am 76 years of age and after an absence of many years I felt that my life was incomplete, and that there was a jigsaw that needed to be completed. So, three years ago I made the decision to return to Freemasonry.
Before my story begins, I have made the decision that the brethren that I mention by name over this journey are first not only my brothers but also my friends, therefore I will not be stating their masonic rank. Please do not be offended, for are we not all equal amongst our fellow men?
Let Us Begin
As with every story there must be a beginning, so I am going to travel back in time to the year 1966. My father Allen Henry Bevern was a Master Mason and a member of North Melbourne Lodge No. 41.
It was this year that my interest in Masonry began by having talks with my father and expressing a desire to become a Freemason. He was a train driver, one of several railway men who were members at North Melbourne. He was very ill at the time and had been permanently retired by the railway doctors.
On my 21st birthday I told him that I was ready become a member of the Craft and I will never forget the expression of joy and happiness on his face.
He was to pass away two months later in March 1967. There are things that remain clear in my mind today, like his illness had left him bedridden, but I will always remember the regular visits to our home by his fellow brothers.
Whilst his passing was a sad time for our family, his brothers ensured that his funeral was to be Masonic which brought tears to our eyes, from the words spoken in the chapel and at the graveside ceremony at Fawkner Cemetery.
I now realise the commitment that I made to my father was an Obligation, which had to be fulfilled.
The Early Days
My Father had told his friends of my intention to join, and I was asked if I was still interested and did not hesitate to say yes.
When I joined, I was full of enthusiasm in attending lodge meetings, rehearsals, and Lodge of Instruction.
During those days my mode of transport was by tram from Ascot Vale to North Melbourne (No. 57 Maribyrnong Line) and back home again dressed in my penguin suit and holding my little black case. I was subjected to some very strange looks from fellow passengers.
A few years later I met a lass and we married and started a family. My employer promoted me to a new position which meant relocating to New South Wales and to this day my regret is that my interest in Freemasonry began to wane.
There have been times that I thought I was too young and immature to be making the choice to become a Freemason.
The Craft
In the late seventies my eldest son wanted to join the Boy Scout Movement as a Cub. When I made enquiries to the local group, I was advised that there was a waiting list. The next words that I heard could be very familiar to several of you reading this story. It was, from memory, "have you ever considered becoming a cub leader?"
I became a Member of Baden Powell Lodge No 488 and it was here that I met John Glover for the first time. I was invested as a steward the same night that John was installed as our Worshipful Master.
Shortly thereafter our Worshipful Master asked me to be the acting Junior Warden for one of our meetings to which I said, "yes". Alas, there was a knock which was answered by our Inner Guard, only for him to advise our Master that our Inspector of Workings was in attendance. In an instant I went from dead calm to completely nervous, but all went well with the only blemish being an incorrect knock towards the end.
They were happy times, but unfortunately there was the possibility of conflict with another, so I made the decision to retire so as not disturb the peace and harmony of our lodge. There were fellow brothers who asked me to reconsider but my decision had been made.
A very good friend and ex workmate, Noel Renshaw invited me to join The Lodge of Good Companions No. 647. It was there that I met Alan Ambrose for the first time over 50 Years ago, and I am privileged to still call him my friend and brother today. Over the years attending I was invested in the various offices from Inner Guard to Junior Warden.
One year I accepted a new position at my work that required more travel and greater financial stability for my family. This led to me being absent and a waning interest in learning my presentation as a Warden to a new brother. I made a mess of this and knowing this I felt ashamed for I knew that I had not only let the new brother down but also those in attendance and let myself down as well. The guilt and shame that I felt was very hurtful to me.
A short time later when attending a Committee of General-Purpose meeting as Warden with a new installation of Master due, I was asked what my intentions were. An answer was required, and it was at this moment that I could not commit.
The moment after I made this statement the silence was deafening and as the meeting continued it felt like I was no longer in the room.
From my very first night in Freemasonry, I had always been told the following, "Family first, work second and Freemasonry third." I was not sure if that was how others saw it.
The other factor that was of concern back in the eighties was that a new Master required the support of his wife, and my wife had no interest at all. That was her decision which I always respected.
At the end of the meeting my two friends Alan Ambrose and Eric Brown knew that I was feeling hurt and provided me with strength and support.
The Mark
Noel Renshaw, my friend encouraged me to join his Mark lodge namely, Admiral Collingwood Lodge No.7 which I enjoyed, having advanced to the office of Junior Warden. There would have been an overlap with my role as the Worshipful Master at Good Companions and back then it was considered that you had to be a Worshipful Master in the Craft first.
When the team was announced for the next year, I was to remain Junior Warden and there had been no prior consultation before this announcement. Was I being oversensitive upon hearing this? I do not know, but I did feel very hurt once again. Had we spoken before this announcement I am convinced that this could have been resolved in peace and harmony. There are important words that me must always remember, they are, RESPECT, COURTESY, and GOOD MANNERS. As children we were reminded of these four words every day by our parents.
The Return
Thirty-four years ago, I turned my back on Freemasonry and walked away, saying to myself that I would never return. Having lived alone for the last 11 years, I still had family and very good friends around me for support and comfort.
Then three years ago I realised that there was a part missing part from the jigsaw that is my life. A phone call to Freemasons Victoria and a search on the Internet have changed my life for the better.
Let us begin with the phone call to Head Office; the lass who answered the call and listened to my enquiry was instrumental in changing my life. I was transferred to a gentleman by the name of Craig Spendlove. Well, where do we begin? In his desire to help me his enthusiasm was contagious. I would estimate that he was within seconds of the call ending, searching for my details.
Within hours or days, I cannot remember exactly when, I received the first of many phone calls from Craig, for he had discovered that I was a Mark Man at Admiral Collingwood Lodge and that he would never let go. Since that first call, we have become very good friends. I could never put a price on the support and encouragement that he has given me in my return to Freemasonry.
Doing a search of the Internet for information on North Melbourne Lodge No. 41 I found the secretary's name and phone number. That gentleman was Nikolas Sakellaropoulos who I advised that I was interested in knowing more about North Melbourne as it had been my father's lodge and mine also. I accepted an invitation to the South with no intention of making a commitment, but a trap had been well-planned and executed. While I was sitting alone in the South a brother walked in. He came straight up to me with his right hand outstretched to shake and his first words were, "hello Gary, my name is Keith Murray, I am the Grand Master". We spoke privately for about 7 minutes, and it was clear that he had been well educated in my background. From that moment on I was hooked to rejoin my Mother Lodge. With the support of Secretary Nik, the wheels were now in motion. During one call with Nik, I commented that many in our Greek Community were Freemasons, his response was "why not we invented it."
North Melbourne Craft Lodge No.41
Since the sale of our original home at Curzon Street North Melbourne many years ago, we had relocated a few times. On Monday the 7th of February 2022 we held our first meeting in our new permanent home at East Melbourne. We are a small but happy lodge that is growing. The friendship between all of us is great whether it be in the Lodge Room or in the South where we all hear our secretary's rousing rendition of the Tylers Toast as our evenings end. 
Early last year the Master and Past Masters asked me if I would like to be installed as the next Worshipful Master. Which I accepted, for I felt that I had finally kept the promise and obligation that I had made to my father 54 years ago.
Installation night the nerves kicked in. Before the ceremony began the Director of Ceremonies, Frank Lombardo spoke to me quietly and this put me at ease. Our Installing Master was Don Reynolds, and it was a great reassurance to have Don on my right. During the ceremony he whispered to me, "Gary, do you realise that you have just given the Sign of Fidelity for the 47th time tonight?". I was still doing it when I woke up the next morning!
I had invited my sons Jamie and Brad to join us in the South for the night, and when I was escorted into the South to my surprise, they were both at my table. I am a very fortunate father for I have a very strong bond with the both.
To all the brethren at North Melbourne thank you once again for being my friends.
The Lodge of Good Companions No. 647
On my very first night back after an absence of many years the handshake and hug from Alan Ambrose was special. Virtually all those that I had known were no longer with us. Now was the time to make new friends.
Covid changed our meetings to Zoom and at one of our early meetings I watched a presentation by Peter White on his walk along the Kokoda Trail. It was here that I found a way that I could be of use by writing stories and sharing them. To begin with I thought that Power Point was a Biro.
I then made a call to Peter for advice which he quite happily provided, and I started my stories. Without his help as a mentor and good friend these stories would never have been completed. Jokingly he has told others that he will come to me for advice in future.
On one occasion when I was presenting a story, he read an Ode for me by Rudyard Kipling. These presentations have since been delivered at my own and other lodge meetings in person or on Zoom.
The Victorian Lodge of Research. No.218
Nik Sakellaropoulos, our Secretary at North Melbourne invited me to attend a Lodge of Research Zoom meeting partly because of the research that I had been doing for my own stories. I have found interest in these along with our Sunday Night at The Movies on Zoom. I am now a member of the Lodge of Research and look forward to attending my first meeting in person.
Brendan Kyne the secretary of Research read each of my presentations and advised me with helpful hints to improve them. They are now on the list of the Presentations Register at Freemasons Victoria.
The Mark – Concord Lodge. No.55
I had made the decision to return to the Mark and spoke to Craig Spendlove about it. From the list of suggestions that I was given I choose Concord, who meet at Bayside. You may well ask why? Bill Brace received his Sixty Year Jewel at my Craft Installation and, knowing that Maureen his wife had recently passed away and that he lived nearby, I could bring him along to meetings. I have been recently invested as Senior Overseer. In this office I am senior to my good friend Craig, and I must admit to feeling pleasure in being his superior. This is a joke that we both enjoy. My first meeting with Stephen Hulley ("Biggles") gave me the impression that I was joining a happy lodge and that is true in every sense of the word. Because once again I have quickly built new friendships with all the members.
South Yarra-Gardenvale Holy Royal Arch Chapter No. 6
I was invited to visit the Festive Board and once again there was a joining form and pen on the table. To my surprise in walked Frank Fordyce the Treasurer of North Melbourne, my Craft Lodge. One night in the South we discovered that we were both dedicated South Melbourne / Sydney Swans supporters and a bond was created. Frank was my proposer into Royal Arch Chapter, but shortly after with great sadness he passed away.
I felt very humble when The Most Eminent Grand First Principal, Peter Gurr, OAM, then became my proposer. Frank would have been First Principal for my Exaltation had he lived, but I am certain that he would have been looking down upon us on the night of the ceremony. My Exaltation was a very beautiful ceremony that I felt very emotional throughout, and in awe for the rest of the evening. I am forever grateful to the following friends who were there for me on this special night. It would be remiss of me if I did not name them, for they are my brothers and now companions. So that there is no bias I will start from where they were seated for the ceremony from the left of the First Principal's Chair.
Nikolas Sakellaropoulos, Peter White, Wayne Mills, Bill Brace, David D'Altera, Lee Norman and finally my mate, Craig Spendlove.
Stephen Hulley and Gordon Brown visited the Festive Board as they were there for their Craft meeting.
Observation
As the Worshipful Master of a lodge, I may be the leader, but since my return I firmly believe that our secretaries are the engine rooms that keep the gears and wheels of our lodges turning with firm control of the handbrake. We will be in trouble if they ever decided to form a union.
From my early days in Freemasonry, I always felt that there was a very wide dividing line in lodges between what I called the Royal Blue and the Sky Blue. In my absence it has disappeared and that is wonderful, but rank must always be respected in the Lodge Room and on special occasions.
Have I taken on too much at 76 years of age? There are those who read this story that may well say that I have. I have come to realise that I needed to complete the missing piece of that jigsaw puzzle that I started many years ago.
If only one Brother who reads my story decides to return to Freemasonry, I will consider this story to be successful and my goal achieved.
This article started on a sad note but was completed on a happy ending.
In closing I must thank Craig Spendlove and Peter White for the opportunity to write this story for it was their idea that I should. They have been punished as "co-editors" in the worst possible way by being forced to correct my numerous spelling and grammatical mistakes.
Fraternally yours,
Gary Bevern.
March 3rd 2022
It was an unseasonably hot night, Thursday March 3rd, when Bro. Fadi Badra MM received a warm fraternal welcome at Robbie Burns Lodge of MMM No76 when he was Advanced by the Worshipful Master, VWBro. Bill Wright, and members of the Mark Lodge team. MWBro Bill Jones GM was in attendance as were several other visitors.
Robbie Burns Lodge of MMM was ably assisted by WBro Brian Robertson acting as Conductor and RtWBro Sean Thomson who assisted with the Secrets both from Werribee Mark Lodge No98. The Night was topped off with a happy and lively festive board in which the GM addressed all in attendance and congratulated Bro Fadi on his next step in freemasonry.
1. Bro Fadi flanked by the GM and WM (Bill Wright) . 2. RtWBro Sean Thomson, GM, Bro Fadi and WM: 3. Bro Fadi 4. Bro Fadi and W.Bro Greg Todio.
MARANDAR Ladies Group Project.
March 1st 2022
The MARANDAR Ladies are a group consisting of partners of past and present Mark and Ark team members, involved in fund raising for charitable purposes.
Lyn Julier, as the wife of the Mark Grand Master and President of the group, chose the "Buy a Bed Fundraiser 2021" as the target for the group project.
The current project was to raise $5,000.00 for the purchase of two beds at $2,500.00 each for presentation to Royal Freemasons.
Up until August 2021, the ladies group had raised $3,250.00 and decided to request $1,750.00 from Freemasons Foundation Victoria.
As the first step in their application, it was necessary for the project to be sponsored by a regular
Mark Lodge and a ZOOM meeting of Prospect Hill Mark Lodge was conducted on Thursday 26th
August 2021. The motion to sponsor the project was carried unanimously.
Approval from Freemasons Foundation for a grant of $1,750.00 was received on August 31st 2021
The total sum of $5,000.00 was presented to Royal Freemasons and acknowledged on November
18th 2021.
In accordance with our agreement with Freemasons Foundation Victoria, this article is presented for
the benefit of the Ladies Group participants, Lodge members and all involved in welfare activities
bearing in mind that COVID-19 regulations in force, prevented a more formal presentation.
Maldon Freemasons Lay Foundation Stone
January 28th 2022
In 1980 the new Maldon Masonic Centre was unveiled; since then and up until a couple of years ago, nothing really changed.
Feedback from community residents described the Centre as drab from an external perspective, a desert, tired, and poor.
We decided to take notice and take action!  Much of what has occurred has been through Member donations and a landscaping grant of $3,000 achieved through an application to Mt Alexander Shire.
New plush wool carpet to the foyer
Replacement squared pavement tiles to the entrance area
Replacement chairs for the South, cushioned and modern.
Disabled concrete ramp leading to the entrance door.
Improved kitchen equipment
Ground works in preparation for the landscaping of hedges, trees and shrubs.
Laying out and concreting the foundations for the Stone Wall, a 9metre x 6metre wall,  in the angle of the square 
The refreshed facilities in the Maldon Masonic Centre now present a more acceptable facility for Federal and State elections, weddings, funerals, birthdays, and other events – and a solid fund-raising strategy.  Plus, naturally, a reinvigoration and encouragement for Freemasons.  
The floodlit Stone Wall and signboard will be a feature of the landscaping project.   The 1-metre high Stone Wall will be mortared and capped with a thick slate capping.  It will be constructed of local Yapeen stone, a mixture of light and medium coloured sandstone. 
Of course, Stone Walls are not only a feature of many properties in Maldon and district – but, reflective of pioneering and mining days.  The culture of years past should not be lost, indeed the great many Freemasons of the day need to remembered.
It may not be well known that it was Freemasons in the late 1800's and early 1900's, who laid the foundation stones of a number of local building, including the local hospital, primary school, library, and others.   
Be it known that, W.Bro.Art Lynch, Secretary, Corinella Mark Lodge, Maldon, has laid the foundation stone of the Stone Wall, in the North East corner of the intended structure!  However, be it small it is the first foundation stone. Sometime later in Spring 2022, we will hold an official opening of the Wall, the laying of the final stone, the Keystone, followed by a combined Craft and Mark Lodge meeting, and an appropriate dinner to 'mark' the occasion.  
We are gaining a number of quotes from local district Stonemasons.  In order to meet the quite substantial cost of constructing the wall, we are 'offering' stones for $100 each, which will be identified by a number and the Mark of the relevant Mark Master Mason, inscribed by a diamond-head cutter.  The registered owners of their own Stone will be recorded in the foyer of the Lodge Centre. 
The Stone Wall presents an opportunity for the identification of those Freemasons who subscribed to the building of the Wall, in perpetuity, to be recalled forever, in history. 
Mark Master Masons, and all Freemasons from all over Victoria especially, are invited to participate.
Inquiries and registration of interest can be made with Corinella Mark Lodge Secretary, W.Bro.Art Lynch,  e: artrosslyn@gmail.com; or by phone: 0427 705 395. 
We welcome your inquiries, indeed from Freemasons at every level. 
Yours Fraternally, 
W.Bro.Les Roberts, W.Bro.Peter Thompson, W.Bro.Art Lynch.
Project Chairmen.